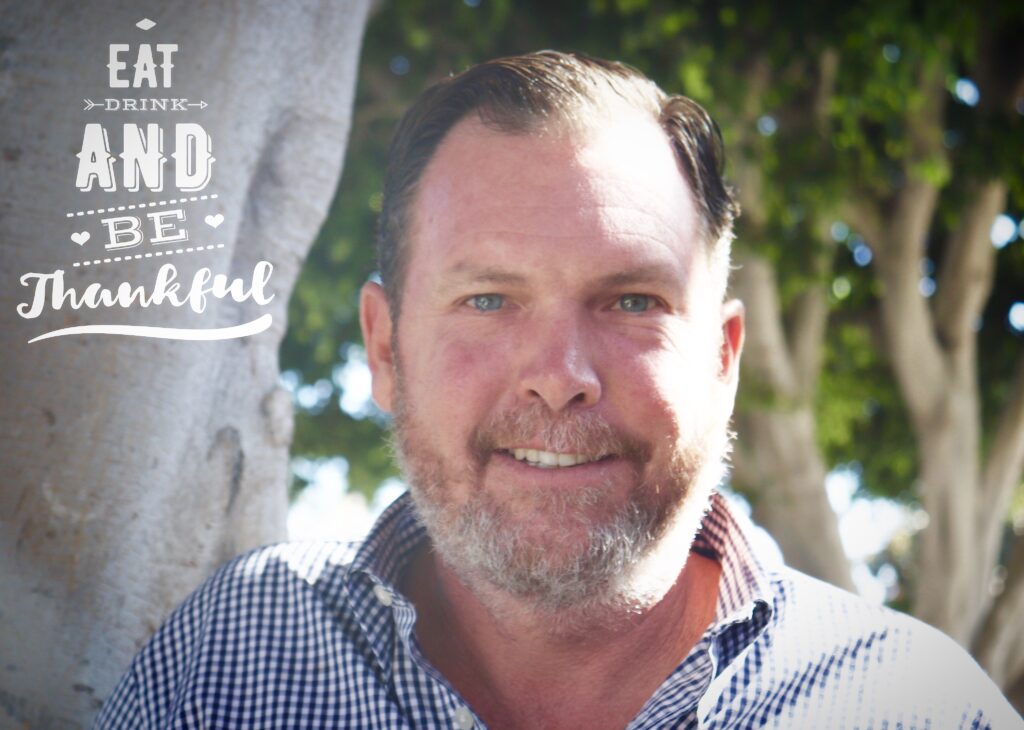 BY COREE CORNELIUS – The Coronado Times – November 12, 2017
Clyde Van Arsdall IV, a 1987 graduate of Coronado High School, is a professional chef who knows all too well how stressful and overwhelming the holiday season can be for those who are hosting big meals such as Thanksgiving dinner. While the upcoming holiday is supposed to be about expressing gratitude, all too often it can feel intimidating to those who are expected to delight their guests with a picture perfect feast. (With the introduction of Pinterest, it seems the pressure has only gotten worse over the years, hasn't it?)
With the mindset that he wants people to genuinely enjoy their Thanksgiving Day so they can focus on their family, friends, and bountiful lists of gratitude, Chef Clyde is taking orders for Thanksgiving meals to go. Preparing the meals at a professional kitchen right here in Coronado, Chef Clyde will be cooking up what he knows best – comfort food with a gourmet touch.
As part of his business, 3 Squares Gourmet Catering, Chef Clyde will prepare everything from a Roasted Whole Turkey to House Made Gravy to a Pear and Ginger Cranberry Sauce. Traditional Thanksgiving side items, such as Green Bean Casserole and Mashed Potatoes will be available along with other favorite sides that Chef Clyde elevates to a more sophisticated level, such as Grandma's Sweet Potato Soufflé and Sage Cranberry Dressing. "Everything that I offer is what I serve to my own family on Thanksgiving. I think that's really important," he notes. (*Depending on customers' dietary needs/preferences, Chef Clyde will try to accommodate specific requests on an individual basis.)
As a military child who grew up moving throughout the country, Chef Clyde had the opportunity to experience flavors from all over, and as he became a professional chef, he continued incorporating flavors from the various places he's called home into his flavor profile. For the Thanksgiving fare which he'll prepare, Chef Clyde will offer items that pay homage to the years he spent in the South. Bacon Bourbon Jam, Dixie Relish (Jezebel Sauce), and Southern Style Pickled Shrimp are among some of the specialty Southern style menu items customers can choose from as they decide on their Thanksgiving menus.
Each menu item is sold separately, feeding approximately 10-12 people, and cooked menu items are prepared so that they're ready to finish in the oven as opposed to reheating. "Everything you get is either uncooked or undercooked, meaning you're finishing the cooking," Chef Clyde says. With his method, which he compares to an art that he's taken years to perfect, customers will find that menu items won't taste dry or overdone.
Whether it's too difficult to coordinate the timing of all the individual dishes as you host Thanksgiving dinner at your home or you simply don't want to/don't like to cook, Chef Clyde is ready to make your Thanksgiving a memorable one. And because each menu selection may be purchased on its own, even those Thanksgiving guests who've been assigned to bring a singular side dish can purchase one of Chef Clyde's selections with the confidence that Thanksgiving dinner won't be ruined because the mashed potatoes are too lumpy or the gravy is disappointing. Among his customers are those people who for years have lovingly cooked Thanksgiving dinner and now want a well-deserved break as well as those people whose quaint Coronado kitchens simply aren't large enough to accommodate all the cooking needed to pull off a Thanksgiving feast.
"Gravy, which we sell by the quart, is by far our biggest seller because that's the thing that people stumble with the most," Chef Clyde shares. "I always hear, 'How do I make a good gravy?' or 'My turkey doesn't have enough drippings.' They struggle with that. We start off with turkey bones and we roast them all down. We use actual turkeys that we roast, and use the drippings, and we make this wonderful gravy that resonates with people."
While he originally only started catering side dishes, Chef Clyde discovered there was a demand for a full Thanksgiving menu, including turkey. "A couple of years ago I started roasting turkeys for people. We roast them the day before, and carve them perfectly," Chef Clyde says. (See section below about upcoming Turkey Carving and Wine Spirits Pairing that Chef Clyde will offer on November 18th from 1:00-3:00.) "We then use some of the broth we made from the turkey bones, and put that into the pan. We use brine for our roasted turkeys."
For those people who are interested in fried turkey, Chef Clyde, in limited quantities, also offers customers the opportunity to order a Fried Whole Turkey. "It's not inexpensive," he admits, "because it's labor intensive, and there's only so many I can do because each fried turkey only has a two-hour serving window, but for those who are interested in ordering that, they can even come down and watch me fry it if they want," he says. "I've made turkeys so many different ways, but by far my favorite is the fried turkey, which is so moist, and injected with so much flavor."
Teaming Up with Coronado SAFE
"One of the things we do at Thanksgiving, whether we gather with relatives or friends, is we all get together as a family, and it's such a sense of community. We decided to donate 10% of the proceeds from our Turkey Day Takeout to Coronado SAFE because their whole organization promotes family, community, and communication. So much of what Coronado SAFE represents meshes with what Thanksgiving, in my opinion, is really all about," he says.
Coronado SAFE's Executive Director, Georgia Ferrell, compliments Chef Clyde by saying, "He really is the epitome of connecting with people," noting how Clyde attends many of the events in town that promote a sense of community, such as the parenting talks which Coronado SAFE holds.
Turkey Carving and Wine Spirits Pairing
On this Saturday, November 18th from 1:00-3:00, for $20 per person, Chef Clyde will host a Turkey Carving and Wine Spirits Pairing at Crown City Kitchen. "What I found was there are a lot of people who are hosting Thanksgiving for the first time or they're no longer going to their parents' house. They're very intimidated because they don't know how to properly carve a turkey. There are a lot of tricks that go into carving a turkey, taking out the wishbone first, and all that follows. I'll be hosting a demonstration where I roast a turkey, and then carve it in front of everyone, and we'll all get to enjoy little turkey sandwiches," he explains.
"We'll also," he continues, "do a little spirit tasting. One of the bartenders from Leroy's Kitchen + Lounge will join us, and he's going to prepare a signature cocktail. We'll also do wine pairings that go well with Thanksgiving dinner, and maybe suggest a couple of bourbons that also complement the meal. It's not a sit-down event because it's held in a professional kitchen, where everyone will be standing around a stainless steel table, but it's a really fun class!"
Chef Clyde wants people to know that carving a turkey doesn't have to be the pressure-filled milestone that all too often is shown in movies, where the patriarch ceremoniously carves the turkey at the dining room table while hungry dinner guests watch with a sense of grand occasion. (Cue Chevy Chase carving the turkey in National Lampoon's Christmas Vacation.)
Chef Clyde, who carves the turkey in the kitchen like the rest of us, laughs as he says, "That's the bill of goods we've been sold as a society, that there's this ritual of carving the turkey at the table. Turkeys are probably one of the hardest foods to cook because they're big, there's two different kinds of meat (dark and white), and there are as many ways to cook a turkey as there is an egg. They say that the tall chef hat has 180 folds on it because each fold represents a different way to cook an egg, and there are just as many different ways to cook a turkey. The real trick is just to make sure that it's cooked thoroughly."
Chef Clyde's Commitment to Give Back to Coronado
Chef Clyde, who just moved back to Coronado this past June after living in San Diego for the last twenty-three years, is relishing reconnecting with the Coronado community. "Now that I'm starting up my catering on the 'island' again, I plan to focus on giving back to the community," he shares. In addition to giving a portion of the upcoming Turkey Day Takeout's proceeds to Coronado SAFE, at the Coronado Schools Foundation's recent benefit auction, held last month, Chef Clyde donated a paella dinner for twenty people, raising a couple thousand dollars for CSF.
Giving back to the Coronado community won't stop once Chef Clyde is finished cooking the last turkey this Thanksgiving. "In addition to Thanksgiving's Turkey Day Takeout, I plan to offer catering options for other holidays too, and I will continue to donate to organizations here in the Coronado community," he says. "As Christmas and New Year's approach, I remind people that I do holiday parties, cocktail parties, receptions, and offer private catering too." Although they're both months away, Chef Clyde is already planning his Super Bowl and St. Patrick's Day Takeout menus!
Why is it so important to Chef Clyde to give back to the Crown City? Clyde's late father, Clyde Van Arsdall III, a naval officer, was stationed here a few times throughout Clyde's childhood. "We would live here, move to another duty station, and then move back, and then do it all over again and again. I've lived in nine different houses here in Coronado," he chuckles.
Clyde's father retired in Coronado, and, up until his passing two years ago, was a well loved member of the community and a member of Christ Church. Clyde's grandfather, who was also in the Navy, was stationed here in 1934, which means that Clyde and his children have marked four generations of Van Arsdalls to live here. "I have strong connections to the Navy here and to the 'island.' So many people I grew up with are still here and so many of my Dad's friends that he was in the Navy with are still here as well. Moving back to Coronado has been very cathartic for me. My kids were used to coming to Coronado to visit, and having a foothold here on the 'island' now is super special to me because I run into so many people I've known my whole life."
"Most of my professional career as a chef has been off the 'island' so it's really special to be back here, doing what I love, and giving back to the community I owe so much to," Chef Clyde says with the utmost sincerity.
After attending college at the University of Rhode Island, Clyde studied culinary arts at Baltimore International College. As part of his studies at Baltimore International College, Clyde trained as a chef in Ireland, where he lived and worked.
Upon graduation from his culinary program, Clyde worked up and down all along the Eastern seaboard. Before his move back to California, Chef Clyde worked in Atlanta, Georgia, whose influence can be seen on his Turkey Day Takeout menu. "My college experience in New England, my culinary experience in the D.C. Metro area, and eventually being in the South cemented my love of comfort food as did my time in Ireland, where the cuisine is all based on comfort food," he notes.
"I tend to gravitate toward meals that bring people together," he concludes. "I really like planning and preparing larger events over an open flame, such as paella dinners, seafood boils, luaus – things that you wouldn't typically do for yourself, but create such rich memories," he says. As Chef Clyde brings to fruition those gourmet meals that people dream about after watching cooking/travel shows or perusing Pinterest, he utilizes a variety of ovens he's built, including Tuscan, Napoli-style, and adobe ovens. "I love anything that brings with it a WOW-factor," he shares, "and I find that's what clients come to me for. It's not just the food I make, but the experience that I create for people as I prepare it."
Chef Clyde shares that he even had the recent honor of celebrating a community member's life at a funeral recently, where, in the yard at Christ Church, he prepared gumbo over grits. "He was from New Orleans, and it was such a rewarding experience for me to prepare food that would give a nod to his life and who he was. It was such a hot day, and some people asked, 'Why are we having gumbo?' It was because that's what he would have wanted, and it meant so much to me personally to honor him that way."
While he's elated to be living in Coronado again, Chef Clyde is excited for the opportunity he has to bring new flavors and experiences to those in the Crown City. In addition to catering, offering spirit pairing ideas, sharing culinary tips, and giving back to the community, Chef Clyde is looking forward to helping people create memories that start with the comfort foods he knows and loves.