Dad's Ribs
SERVES 6 TO 8
Prep and refrigeration time: 8 to 24 hours
Smoking time: 6 hours
3-4 racks baby back ribs
Coarse salt, to taste
Fresh ground black pepper, to taste
Cumin, to taste
Dad's barbecue sauce, 4 cups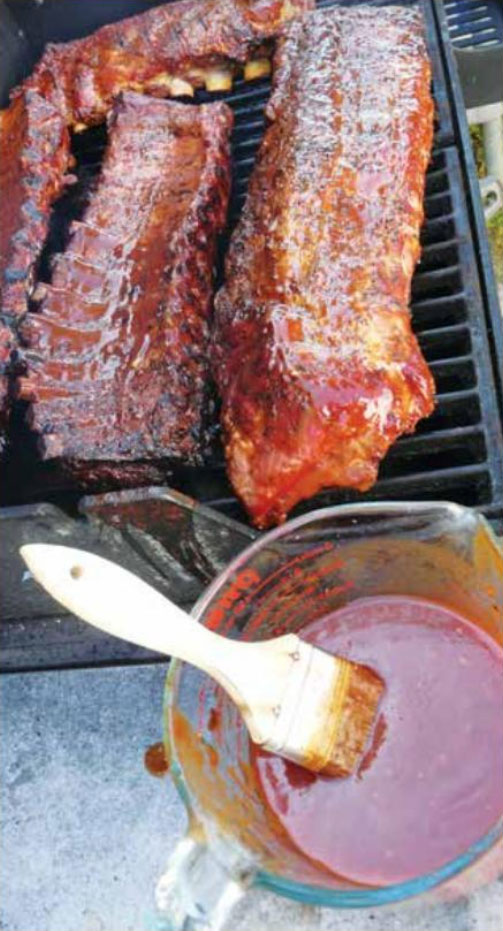 MEAT PREPARATION: Place racks of ribs bone side up and run a knife lengthwise across the bones cutting through the silverskin, a visible white, and silvery connective tissue. This will keep the ribs from curling during cooking. Season the ribs liberally with salt, fresh ground pepper, and cumin, wrap tightly in plastic wrap, and refrigerate eight to 24 hours.
WOOD PREPARATION: Soak a bucket of hardwood pieces in water for several hours prior to smoking meat. I prefer cherry and oak, but other varieties such as mesquite are great, too.
SMOKER PREPARATION: Smoking requires indirect heat. To get started, light a pile of charcoal briquets in the fire box. Once the charcoal turns white and stops smoking, grab pieces of hardwood out of the bucket, shake off excess water, and carefully place on the charcoal. Keep a few pieces of wood continually smoldering on the fire for the first three to four hours. In my experience, a little wood goes a long way.
SMOKING THE RIBS: Wad a paper towel and, using tongs, dip the paper in cooking oil and thoroughly coat cooking grates. This helps prevent meat from sticking. Then place the ribs spaced out on the rack at the far end of the smoking chamber, opposite the firebox. The smoke needs to be able to circulate between the ribs. Close the door to the smoker and monitor the heat in the chamber. The ideal temperature is between 250 and 300 degrees. After the first three hours, remove the ribs, wrap in foil, and place foil packet back into the smoking chamber. Close the lid and continue to cook for another three hours. Ribs are fully cooked once the meat is fork-tender and registers 145 degrees on a meat thermometer.
TO EAT OR NOT TO EAT? To eat your ribs now, add more charcoal to your smoker, or if using a gas grill, preheat on medium high for 15 minutes. Brush ribs with Dad's barbecue sauce (or your favorite bottled sauce) and place them on the rack of your smoker or grill and cook for about 10 minutes. This step heats the ribs through while caramelizing the sauce. Place remaining sauce in a saucepan and keep warm on medium heat.
TO SERVE: Cut each rack into two rib sections and serve a half rack per person or chop into individual ribs. Serve with extra sauce on the side. Or cool and place in sealed container and store refrigerated for up to one week. Enjoy!
Dad's Barbecue Sauce
MAKES ABOUT 4 CUPS
1 (36-ounce) bottle ketchup
1 1/4 cups apple cider vinegar
4 tablespoons Claude's brand Barbeque Brisket Marinade Sauce(available on Amazon.com or at Iowa Meat Farms in San Diego)
7 tablespoons brown sugar
1 teaspoon fresh ground black pepper
3 tablespoons Worcestershire sauce
1 teaspoon Tabasco sauce
3/4 cup water
1/2 teaspoon kosher salt
1 clove garlic, peeled and minced
Combine all ingredients in a large stockpot and cook over low heat for 30 to 40 minutes until all ingredients are melded together.