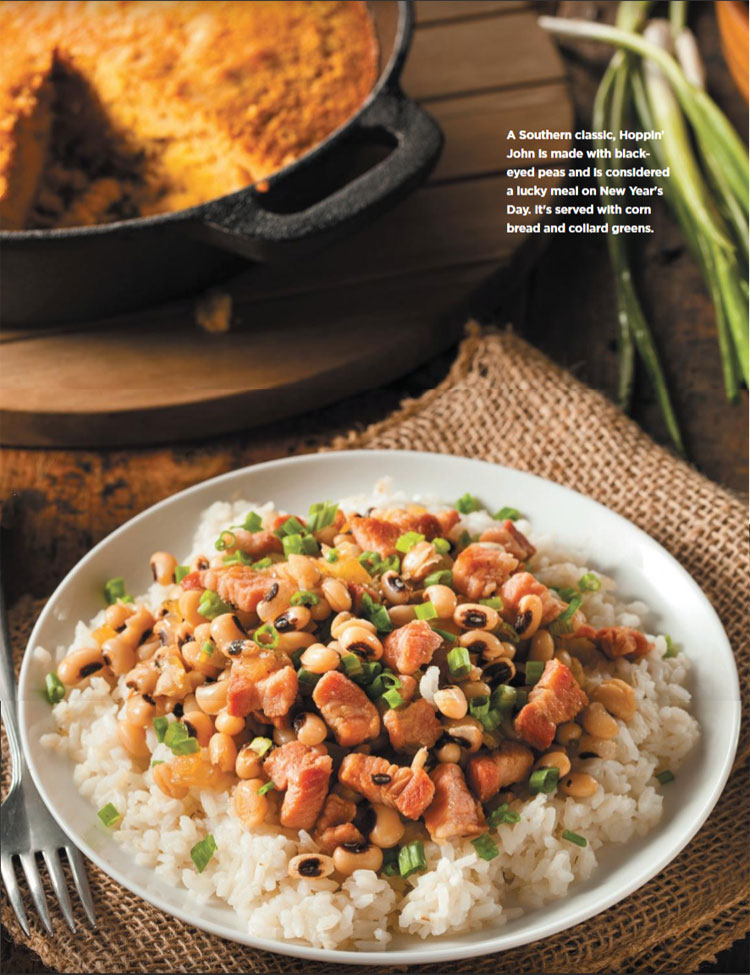 Clyde's Hoppin' John
SERVES 10
7 thick-cut bacon slices, chopped (maple or hickory smoked)
4 cups dried Camellia black-eyed peas (may use canned or frozen)
4 celery stalks, chopped (1 ½ cups)
1 medium-size yellow onion, chopped (1 ½ cups)
1 small green bell pepper, finely chopped (1 cup)
4 garlic cloves, chopped (1 tablespoon)
½ teaspoon black pepper
¼ teaspoon cayenne pepper
1 teaspoon kosher salt
8 cups chicken broth (low sodium or homemade)
2 cups Carolina Gold rice
1 bunch sliced scallions
Cook bacon in large heavy pot over medium heat 10 to 12 minutes or until almost crisp. (Reserve bacon fat)
Add broth and dried Camellia black-eyed peas and bring to a boil. Reduce heat to medium-low and simmer one hour. (If using canned or frozen blacked eyes peas skip these first two steps. Sauté all ingredients in steps 3-5 and proceed.)
In separate skillet, heat 4 tablespoons of reserved bacon fat over medium heat.
Add celery, onion, and bell pepper (Cajun mirepoix) and sauté until tender about 8 minutes.
Add garlic, black pepper, cayenne, and 1 teaspoon of the salt, cook for 3 minutes.
Add mixture to broth and black-eyed peas and bring to a boil over medium-high. Reduce heat to medium-low, and simmer until peas are tender, about 30 minutes.
Cover to keep warm; set aside.
Serve with Carolina Gold rice (follow instructions on package) and fresh sliced scallions.
Collard Greens
(INDIGO RESTAURANT, ATLANTA 1996)
SERVES 10
6 hickory-smoked bacon slices, finely chopped
1 medium-size sweet onions, finely chopped (approx. 3 cups)
1 ham hock (score with knife on all sides)
4 garlic cloves, finely chopped
1 ½ quarts chicken broth (homemade or low sodium)
1 ½ pounds fresh collard greens, stems removed, washed and chopped
6 tablespoons apple cider vinegar
2 teaspoons sugar
1 teaspoons crushed red pepper
½ teaspoon salt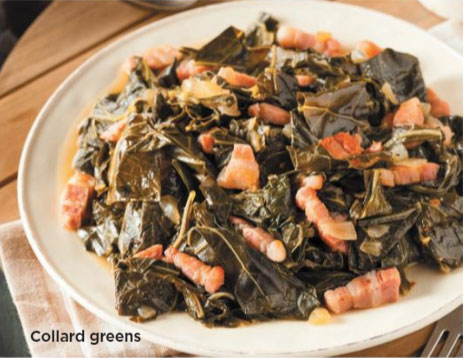 Cook bacon in a 10-quart stockpot over medium heat 10 to 12 minutes or until almost crisp. (Pour off all but 3 tablespoons bacon fat.)
Add ham hock and brown over medium heat
Add onion and sauté until soft
Add garlic and sauté 1 minute
Add broth, collard greens and remaining ingredients, cook 2 hours or to desired degree of tenderness.
Drain greens and plate, reserve liquid (pot likker) and serve separately in a cup along with meal.