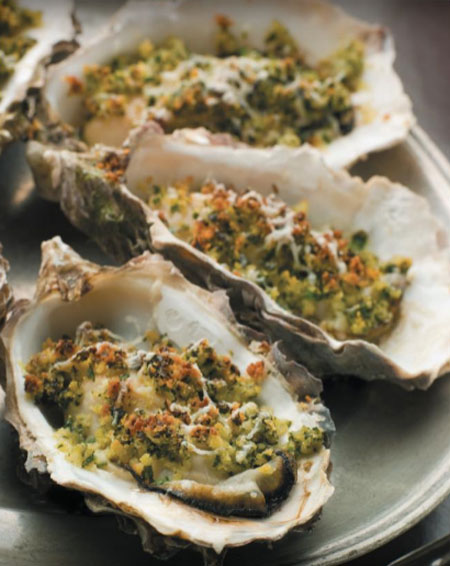 Basic Mignonette Sauce
¼ cup red wine vinegar or Champagne vinegar
1 tablespoon minced shallot
¼ teaspoon freshly ground black pepper
12 large oysters, freshly shucked
Stir vinegar, shallot, and pepper in a small bowl. Drizzle over oysters.
Oysters Rockefeller
4 tablespoons unsalted butter
2 garlic cloves, minced
½ cup bread crumbs, panko preferred
2 shallots, chopped
2 cups fresh spinach, chopped
¼ cup Pernod
Salt and pepper, to taste
½ teaspoon red pepper sauce (Tabasco)
2 tablespoons olive oil
¼ cup grated Parmesan
1 tablespoon chopped parsley
2 dozen oysters, on the half shell
Rock salt (for serving)
Lemon wedges, for garnish
Melt butter in a skillet. Sauté the garlic for 2 minutes to infuse the butter. Place the bread crumbs in a mixing bowl and add half the garlic butter, set aside.
To the remaining garlic butter in the skillet, add shallots and spinach, cook for 3 minutes until the spinach wilts. Deglaze the pan with Pernod. Season with salt and pepper and add a dash of red pepper sauce. Allow the mixture to cook down for a few minutes.
Finish off the bread crumbs by mixing in olive oil, Parmesan and season with salt and pepper. Spoon 1 heaping teaspoon of the spinach mixture on each oyster followed by a spoonful of the bread crumb mixture.
Sprinkle a baking pan amply with rock salt. Arrange the oysters in the salt to steady them. Bake in a preheated 450-degree oven for 10 to 15 minutes until golden. Serve with lemon wedges and red pepper sauce or mignonette sauce.
Grilled Oysters with Chipotle Bourbon Butter
This recipe is adapted from Hog Island Oyster Co. in Tomales Bay, north of San Francisco. You can easily make these under the broiler if you don't have a grill.
½ stick unsalted butter; 4 tablespoons softened to room temperature
2 tablespoons bourbon
2 tablespoons honey
2 garlic cloves, minced
1 chipotle chilli in adobo sauce, minced
12 oysters, shucked
In a small food processor or mixing bowl, combine the butter, bourbon, honey, garlic and chipotle. Stir or pulse until well mixed. You can make the butter mixture up to 1 week ahead and refrigerate. If you're going to be cooking in the hot sun, make sure the butter is solid.
When ready to grill or broil, remove the butter from the fridge, and place a scant tablespoon on each shucked oyster. Place the oysters on the grill or on a baking sheet and under the broiler. Once the oysters and butter have bubbled and caramelized, remove them, about 3 minutes. Let cool slightly before enjoying.
Note: You'll have an easier time incorporating the bourbon into the butter with a food processor. But the butter mixture can be a bit lumpy – it's going to melt anyway. If you're broiling the oysters, use small piles of salt under each shell to keep them upright; otherwise the butter will spill all over the pan.