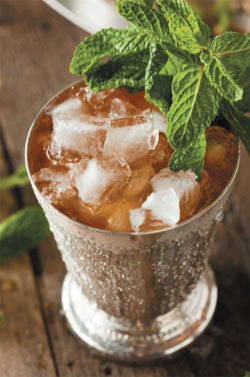 Mint Julep
The Southern Foodways Alliance guide to Cocktails 2017
Yield: 1 (2 ½ ounce) cocktail
Glass: Silver Julep Cup or rocks glass
Service Ice: Crushed
Garnish: Mint Sprig
Cocktail:
2 ounces bourbon
½ ounce simple syrup
4 mint sprigs, the largest and prettiest reserved for garnish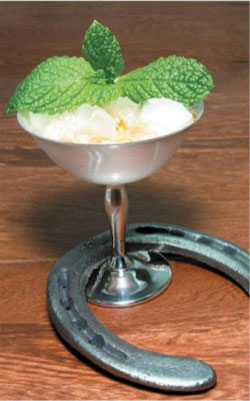 Crush ice in a Lewis bag if possible. A Lewis bag is a fun bar tool used for crushing ice. It is a canvas bag that comes with a mallet. Ice goes in the bag and you use the mallet to crush the ice. If you don't have a Lewis bag wrap ice in a dish towel and beat the heck out of it. Place 3 sprigs of mint and simple syrup in a Julep cup or rocks glass. Lightly press mint with a muddler to release aromatic oils. Add bourbon and give a quick stir. Fill cup 1/3 full with crushed ice and stir. Repeat with another 1/3 of the ice. Finally pack the last third with the ice mounded like a sno-cone. Take reserved mint sprig in one hand and give a light smack to release the aroma. Plant the sprig in one side of the cup. Add 2 small stirrer-type straws, or a small metal straw, right next to the garnish, so that you smell the mint each time you take a sip.
Simple Syrup
Yield: 2 cups
1 cup water
1 cup granulated white sugar
Place sugar and water in a sauce pan, set over high heat, and bring to a boil. Boil for 3 minutes. Remove from heat and cool to room temperature. Refrigerate in an airtight container for up to 1 month.