Crème Brulee
Clyde Van Arsdall
Ingredients
1-quart heavy cream
1 vanilla bean split and scraped
1 cup of sugar (1/2 for recipe ½ cup for topping)
6 large egg yolks
2 quarts of hot water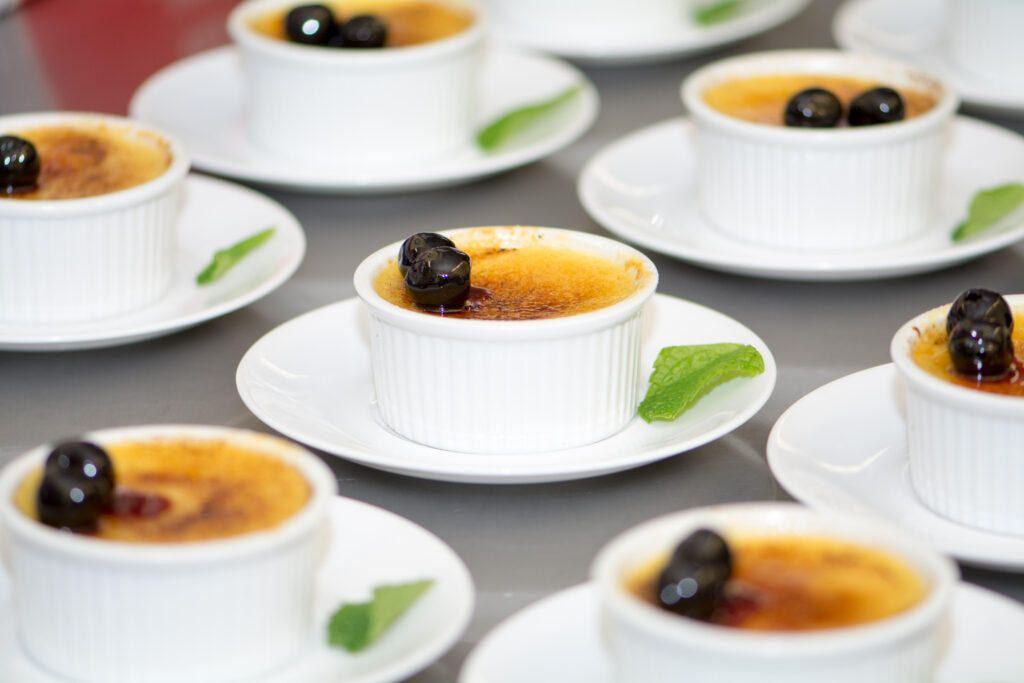 Directions
Preheat oven to 325 degrees
Place the cream, vanilla bean and all its contents that were scraped into a medium saucepan over medium to high heat and bring to a boil. Remove from heat and let rest for 15-20 minutes. Remove vanilla bean.
In a mixing bowl, whisk together ½ cup of sugar and the 6 egg yolks until it becomes less gritty and lightens in color. Add cream a little at a time stirring continually. Pour the mixture into 6 ramekins. Place the ramekins into a large roasting pan. Pour enough hot water into the pan so the water comes halfway up the ramekins. In French, this method is called a bain-marie or water bath. Bake until the crème brulee is set but still a little giggly in the center. This will take about 45min to and hour.
Remove ramekins form water bath and refrigerate for at least 2 hours and up to 5 days. Let the crème brulee warm up for at least 30-40 minutes after removing form the refrigerator before caramelizing the sugar on top. Using a torch melt the sugar to form a crust on top. Allow the crème brulee to sit before serving.
Top with fresh berries or for something different try using Luxardo cherries.
Note: When removing hot ramekins from the water bath use tongs with rubber bands twisted around the tips. The rubber bands help the ramekins not to slip when being removed.